Brother Journal ︎ up -to-date info and resources ︎
BROTHER NEWS ︎

24.06.12


PRODUCT FOCUS: THE LEZ BAG

At Brother, we love filling our store with lots of different things. You know us to be one of the best places to shop vintage, but we also link up with local designers and artists to sell products we think are cool. If you've been a fan of Brother for a long time, you may have seen THE LEZ BAG hanging from one of our walls; designed by D, THE LEZ BAG is a 'Clear Bag for Queer Fags.' Not only is it practical, but also the perfect accompaniment for an iconic look and who better to tell us more about it than the designer themselves, D...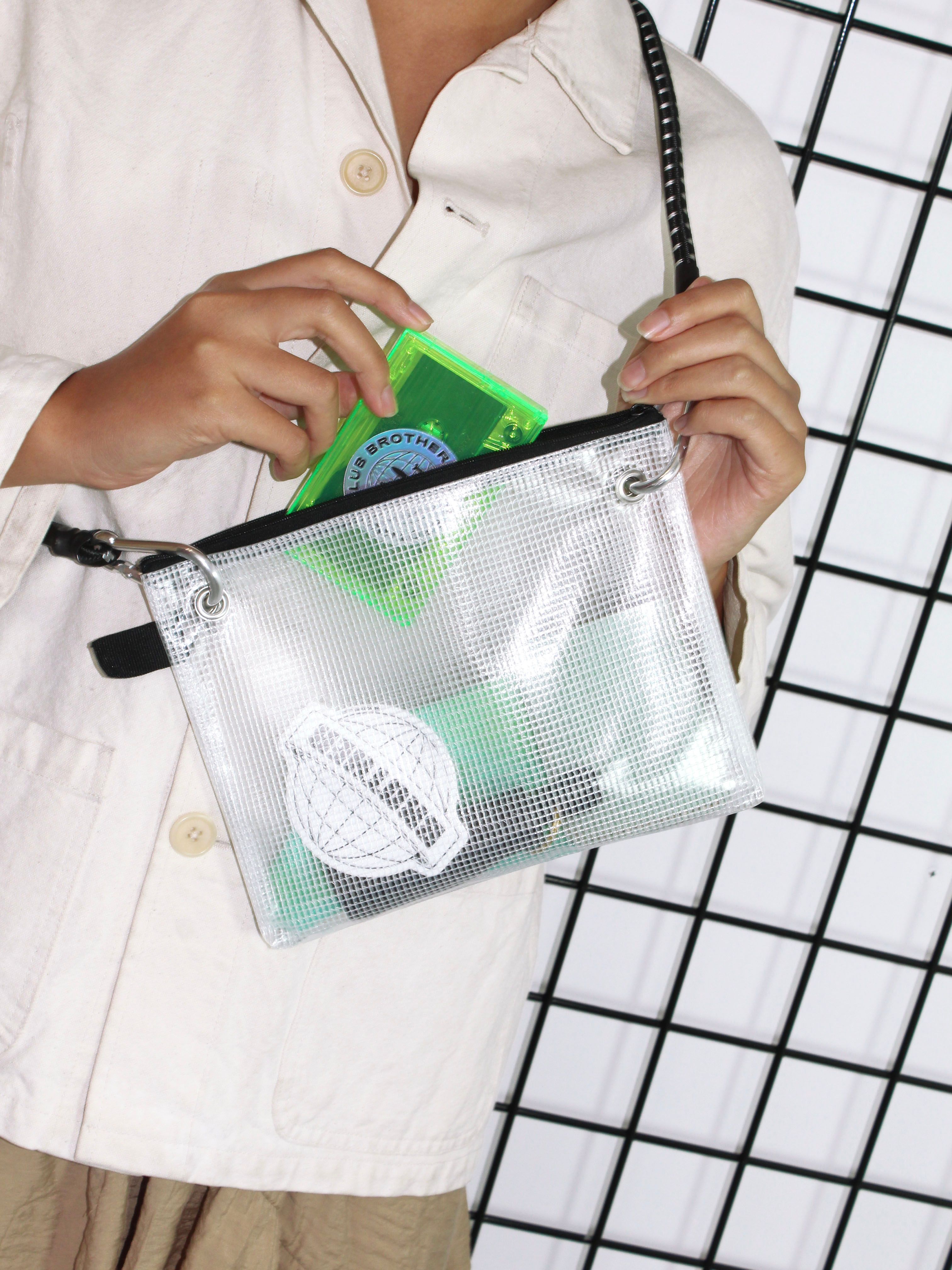 Hi D! Can you give us a background on the concept of THE LEZ BAG?
At the heart of my whole enterprise is a commitment to the idea that clothes have no gender. I want to celebrate butch style and a specific kind of gay irreverence towards fashion that may be deemed camp. Lezbag is a queer owned, queer made, queer run business that has a really loyal, amazing customer base of queers, artists and activists.
When I made the first lezbag, for a friend actually, there was a complete dearth of gender neutral bags out there. The high st and now online brands have always been very into binary interpretations of gender when it comes to 'handbags' and clothes full stop. This has a really debilitating impact on young trans and queer ppl. My slogan is 'Clear Bags for Queer Fags'. I wanted to put butch style front and centre as butch and trans masculine people are often overlooked in favour of straight cis women and cis gay men in terms of being celebrated as fashion frontrunners. And butch people traditionally have faced discrimination regarding their gender nonconformity and mode of dress. Lezbag kicks against all that bullshit.
Where did the 'clear' part come from?

I think at one stage I was like, ya know, transparency, political transparency, transparency in your fashion. That is politically contentious because we shouldn't assume everyone has the privilege or opportunity to be transparent about their sexuality, people are in situations where they can't be transparent about their sexuality. But I think transparency as honesty is still important to me as a lezbag ceo.
Personally, I like wearing my lezbag because you can accessorise your whole outfit with the stuff in the bag because you can see it. People of different genders have different types of things in their bag too right so it can be affirming too. So I recently put up a post of a femme friend of mine who has eye-lash curlers, and all this stuff. In my bag there's maybe like some hair putty and some old Rizla. I don't know what that says haha.
And the carabiner is also a big part of the design. It's quite practical, can you tell us about that?

I have to give you a quick spiel about all the things that make it a 'Lezbag'. There is a precise difference between walking into a camping shop and the aesthetic that is presented to you there and what feeds into the design of a lezbag. Because I may be super butch but I am not practical at all! Can't change a light-bulb, useless at DIY but I love the fashion that accompanies it and I think that is a particularly gay approach to things, 'fashion over function.' And the carabiners on the Lezbag are functional of course but their aesthetic and the way they look is just as important as the function they serve.
The carabiner has huge history of being part of a butch canon of identity flagging; it's very tied to the working-class butch identity in the United States.
Can you tell us a bit more about the history of the carabiner?
I know a bit about the American context. In the war, and post-war actually, when people who were assigned female at birth were getting in to the workplace, lots of butch people found that they didnt feel right or couldnt work in traditionally feminine jobs, which at the time was mostly secretarial work, so they would go into the postal service, or janitorial work, like those kinds of blue-collar, working class jobs. They would wear carabiners because they would have to carry lots of sets of keys around but it also became a way of flagging your sexual identity when homosexuality was illegal. It's a big butch dyke icon – the carabiner.
(You can get more information on the history
here
)
What's next for you and THE LEZ BAG?
Collaboration is what I'm doing at the moment. A designer friend of mine who works mainly with rubber and I are teaming up and doing something together. Hopefully creating a larger bag together that is influenced by kink… I love working within the community and working with queer makers and trans makers. That's my favourite part, that all my customers are basically in the queer community and working for the same things that I want. Pro-trans, pro-abolitionist, anti-terf.
The bag is fun and actually a really important thing for me when I made it in 2016 to be like 'I feel good in this'. I think lots of people, trans and non-binary people, my customers, have said similar things. It makes a real difference to have a trans or non-binary person making clothes for you. For example I had a customer message me just yesterday to say ' I just love it! And its perfect for my not quite butch, not quite femme aesthetic'. That's my favourite part, getting feedback like that from queer people.
The high street and these massive conglomerates are ruled by straight cis men, its not that they have no idea about different identities but they have no motive, incentive or desire cater for us. I think just the psychic toll of wearing things that are not made for you is exhausting and will erode the way you see yourself over time and as trans people and non-binary people, we deserve SO much more than that. Because we are the culture makers.
That's really powerful.
The Lez Bag definitely did come out of this improvisationary approach to fashion because I know if I go to the mens section in a clothes shop it just will not fit because mass produced clothes are made for a specific cis male able bodied body. Non-binary people, butch people and trans people know this and have sourced their clothes in a variety of ways from charity shops, hardware shops and through making their own stuff, whether the skills are there or not. There is the age old hot glue drag queen routine. This mode of experimentation led to the way I put the first lezbag together and it just seemed to strike a chord with people.
Any other designers or brands that you're keen on at the moment?
Because it's summer I've been looking for swim stuff and that's like a nightmare because it's so gendered which means it's not an ideal situation for a trans person. But there are companies making non-binary swimwear, mainly in America which means it's quite expensive. There is a company called
Outplay.
A company called Beefcake and there's a place in LA that does lots of gender queer merch called
Other Wild
. But 2bh I will probably end up fashioning something from the lycra section of sports direct, which is sad because sports direct is so so appalling but I can't always afford to pay all the costs associated with bespoke gender affirming fashion. And from an ethical and environmental position this needs to be addressed because trans, poc and queer people can't often afford the costs associated with ethical and gender affirming fashion. I try and keep production costs down with the lezbag, and I use 95% recycled materials, but it is becoming increasingly difficult to make any money that way.
Does any of your other work tie in with the Lez Bag?
I can't really focus on one project at a time and the Lez Bag is so practical and straightforward and it demands physical work, whereas my main work is satisfying in a different way, it's actually rarely satisfying!
I think in terms of my gender too, I feel quite affirmed when I'm doing something like bashing something with a hammer, making a bag, you know. I worked in making coffee for a long time alongside my studies and though there's so much wrong with that industry I really enjoyed how butch it made me feel and how affirmed it made me feel as a masculine person. I think it was something to do with the work-wear and also operating a machine, it was quite important in working out my gender. To wear clothes more suited to your gender identity for me felt freeing when working those kinds of jobs.
Any queer icons you would like to see wearing teh bag or the bag was inspired by?

Just my friends! My trans friends! I love it when the people I love wear my bags. Actually, that said, I do have queer icons on my little business cards! K.D. Lang, Samira Wiley, Justin Bieber, he's less an icon, more that he just represents a lot of trans-boy aesthetics. Dolly Parton! my main crush, Judith Butler, Sylvester, Joan Armatrading and Caster Semenya. I don't often think 'who would I like to see in a Lez Bag?'. I quite like it when I get an order from one person with a surname then I get loads of orders from the same surname, like they've just told their family about me. I like it when couples buy my bag. I have a friend called Annie and her girlfriend wanted a bag and for months and months she wouldn't let her girlfriend buy a bag because she said 'we cant have 2 Lez Bags in the same couple!' but then she relented. So couples wearing bags, that's cute. Though my girlfriend wont wear a Lez Bag… I haven't made one right for her gender yet apparently.
Want a LEZ BAG of your own? Come along to Brother's store in Netil Market or check our online store to see for yourself.

You can follow D @Fragile_Masculinity and THE LEZ BAG @thelezbag