Brother Journal ︎ up -to-date info and resources ︎
BROTHER FEATURE ︎
21.11.20
IN CONVO w/ SOTT FOUNDER + CREATOR FIONA CARTLEDGE
Celebs wanted to shop there, stylists wanted to borrow from the archive and club kids and scenesters a-like were falling over themselves to snaffle a coveted saturday job. Everybody wanted a piece of of the SOTT action. And it's plain to see why. Sign Of The Times, was an iconic shop, the stylists first choice and DIY gallery space. A mini 90s department store which packed a punch of powerhouse proportions and even though it is no more, SOTT's heady and momentous vibrations can still be felt years on. I personally was far too young at the time to set foot in the shop let alone attend any of the infamous parties that turned the music into a movement, but I know about them. It's all there in the stories told by people who used to go, the DJs who used to play and the staff that helped to make these events super extra. They were so prolific they became something of a beacon to uphold.
Something we have always wanted to do at Brother is culturally respond to what was going on in the world, be it fashion, music, subculture - in a way that's tangible and interactive. Why not have a gallery, a clothes shop and hell a dance floor? We may be at the beginning of our journey, but we managed to speak to who we consider the godmother of Brother, Fiona Cartledge and talk about not only how Sign Of The Times was created, but it's impact on fashion, the party scene and what could possibly be in store for new brands like us.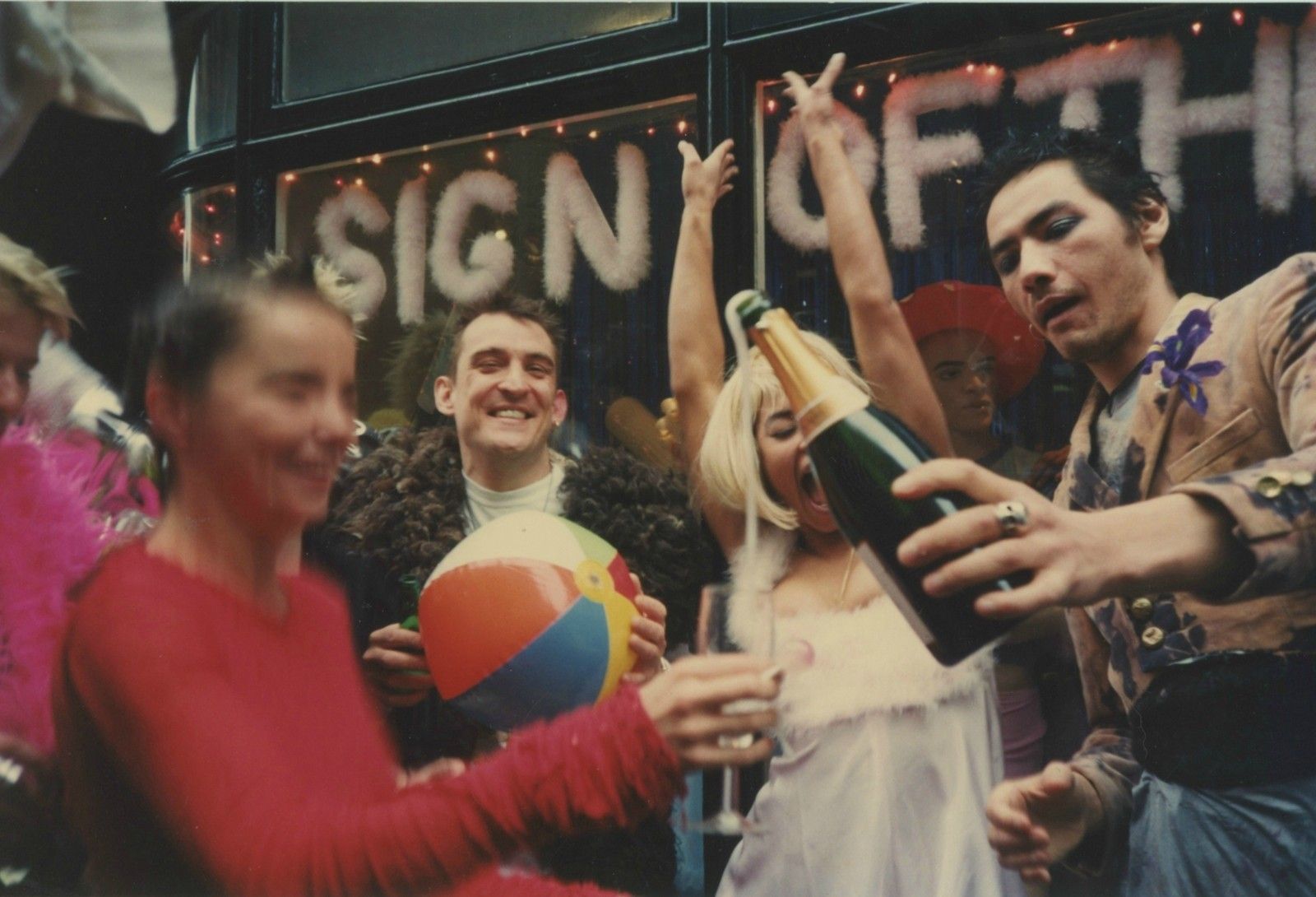 BJORK at the SOTT Launch Party. Image by Jeremy Deller
How did you get into fashion and what was the scene like when you were a teenager?

We're talking about the late 70's. There wasn't this big high street monolith and there was obviously no internet, so we used to go to small boutiques like Chelsea Girl and markets and jumble sales. We saved up for things. Then punk came along. Jumble sales were really good in those days because the jumble that you'd get was 50's and 60's, which was really good quality before this whole fast fashion thing came in. You'd go to a jumble sale and get a Courreges coat. Second-hand hadn't become really big business so you could get really good quality stuff. I remember Mary Quant boots, Dior coats, cashmere jumpers. You would do battle with the old ladies, they'd all be there and all us youngsters would be there and you'd get up really early to get first dibbings.
What inspired you to get on the fashion scene?

I used to go down to Portobello Road which was much bigger than it is now, and there were a few people down there who had a really good eye and they had really good market stalls. One of them was a lady called Ronnie Melia, she eventually got a shop called Radar which was quite well known. It was all vintage. She used to dress people like Mari Wilson, Duggie Fields would come in. I got a job with her on her market stall, just doing the ironing and everything in the shop. She had a really good eye so I learnt a lot about fashion from her. There wasn't this whole industry like there is now but a few people, like Hamish Bowles, were coming down all the time to Portobello to buy pieces to either copy or feature in a magazine. London was very small then. It was very much based around those areas, people hadn't really spread out.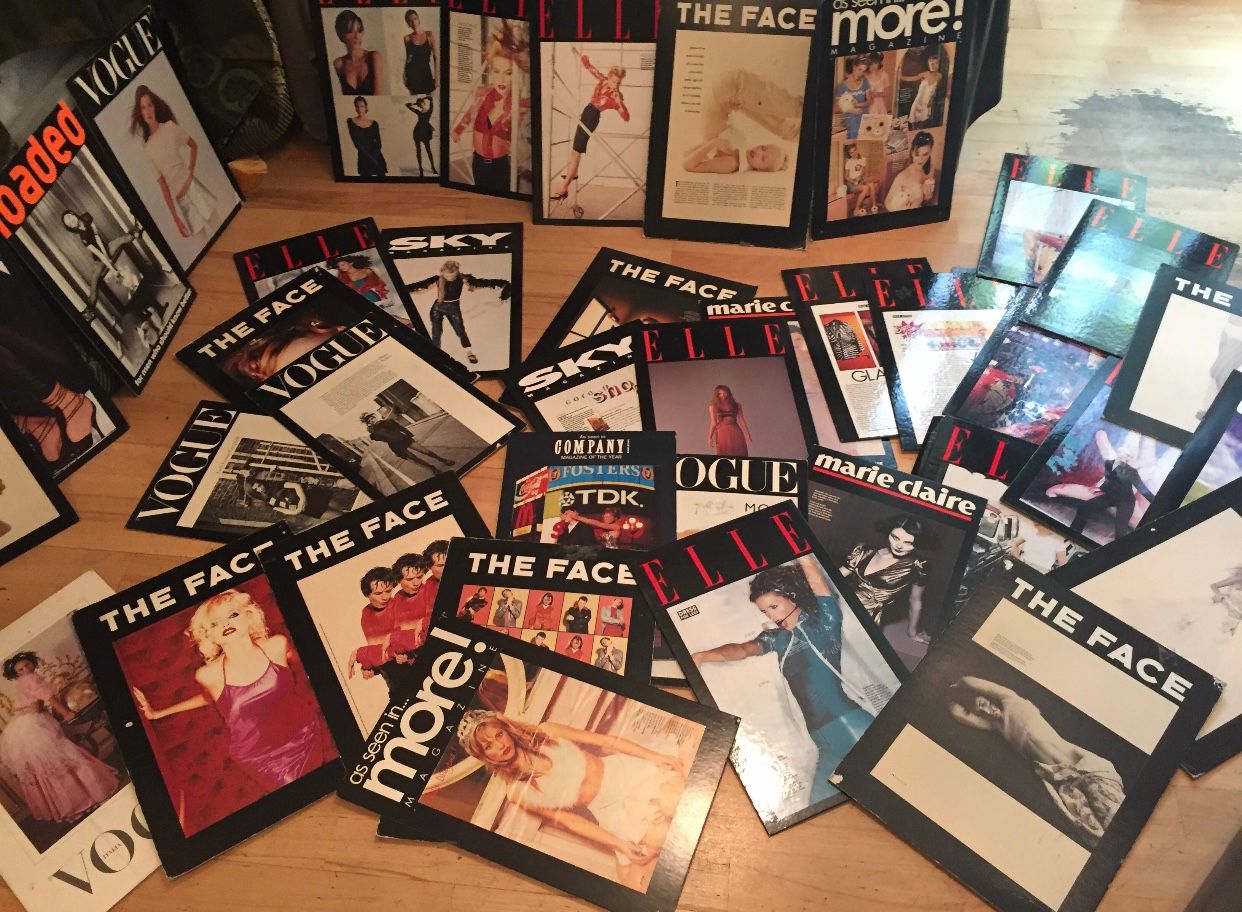 17 some of the press achieved by sign of the times over the 8 year period of the 90s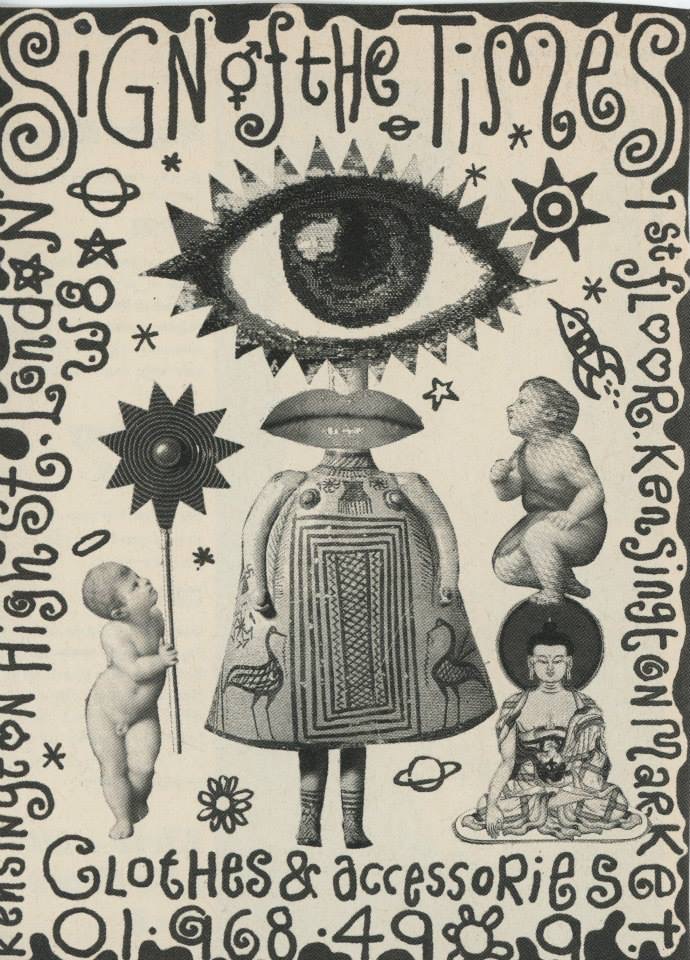 SOTT flyer by Paul Shobbrook for the Kensington Market shop
What did you do after Radar?
After Radar I worked for various people in Kensington Market, mainly vintage stalls. I got a job in Bermans & Nathans which were Costumiers which turned into Angels. Bermans & Nathans had a massive site in the 80s, 70s, and probably 60s in Camden. They used to literally clothe the film industry. The BBC was known to be the biggest stickler for accuracy because apparently if they weren't they would get all these letters coming in. It was great. I learnt from people older than me exactly what people wore in Spring 1951 on a train going to Newcastle, so I went from knowing a general idea of vintage to quite specific vintage.
I was working for various different people in Kensington Market like Marx & Stalin, which was a pun obviously. It was run by Carl and John who were really influential at the time. They were very anti 'Big Brother' but they celebrated Russian graphics. Not because they believed in what was going on in the Soviet Union, just because from a graphic point of view they loved the imagery, the posters, the hero workers, the Slavic language...
I think young fashion starts wherever young people can afford to live.
...There was a collection by Jean Paul Gaultier - we have one of those jumpers! Is that what kickstarted your Russian badge collection?

Yes exactly! That's quite a seminal collection of Jean Paul Gaultier and it was done at the time of the Cold War, which you can't even imagine now but it was a really big deal in the 80s, before the Berlin Wall came down. It was very much a 'them' and 'us' thing. You had the West and then you had the East and they were very much separate. The Soviet Union spent a lot of money on propaganda, the imagery was incredible. They made a lot of T-shirts so I went to Moscow for work and saw these Russian badges which had all this imagery on so I was buying them up and bringing them back. Started selling them to Marx & Stalin and around Camden.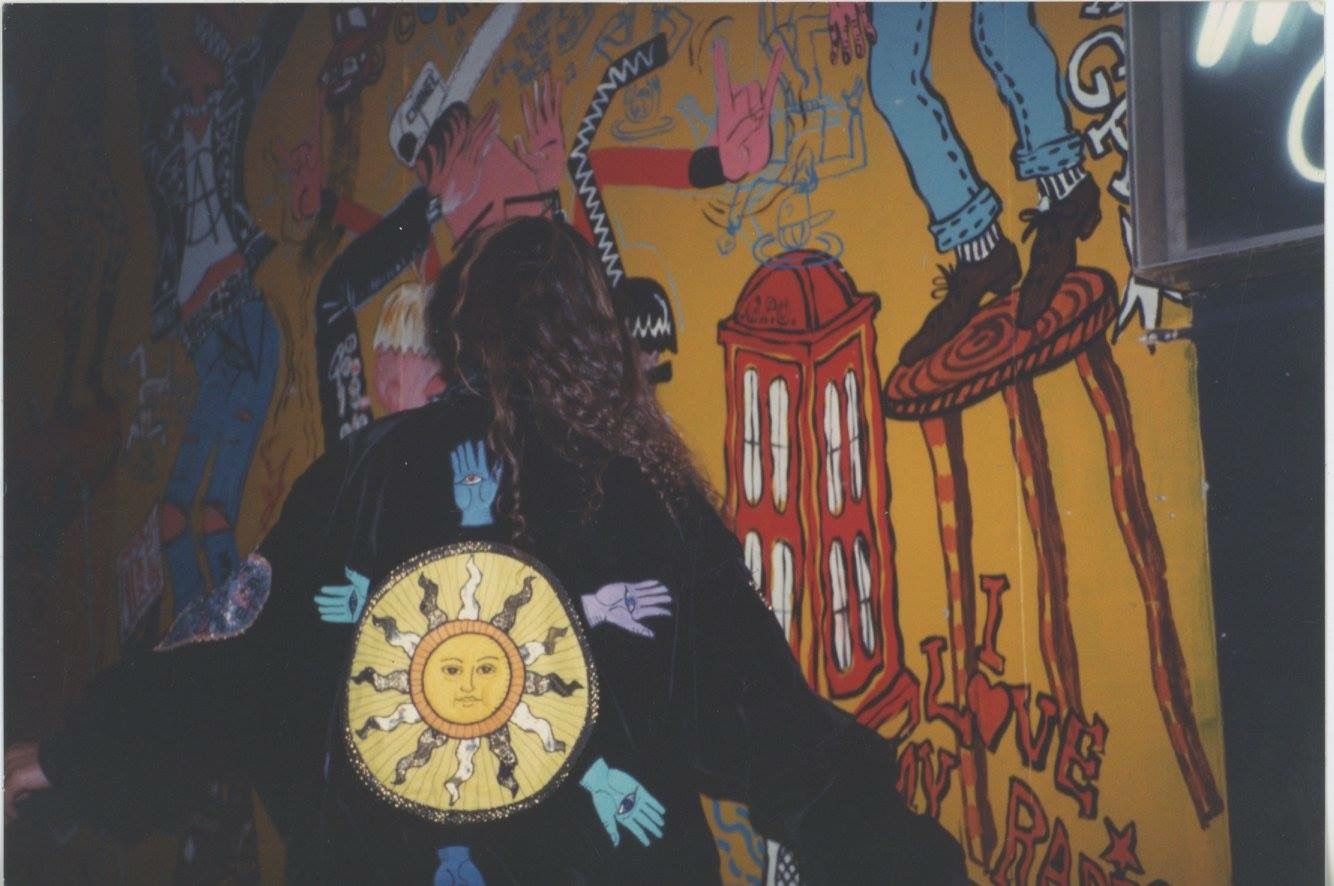 Embroidered sun jacket photographed in front of Wigan mural, Kensington Market, 1989
You're most well known for your incredible store Sign Of The Times in Kensington Market. Why did you want to start it there?

Kensington Market was a real breeding ground of talent. We all used to want to go there because it was this alternative lifestyle, it wasn't the mainstream. It meant you didn't have to get a proper job. You could go in there, put the first month down and start something and they really encouraged people to be really 'out there'. They liked it. You gotta remember everything was different, the rents were different. It was cheap to live in Chelsea and Portobello then. I think young fashion starts wherever young people can afford to live and we all had bed-sits, flats around there, shared houses, things like that. I lived in a shared house in Chelsea if you can believe that and it was really cheap.
Outside of SOTT, Kensington Market, 1991
Smashed mirror anarchy sign by paul shobbrook on the wall of Kensington Market shop, 1989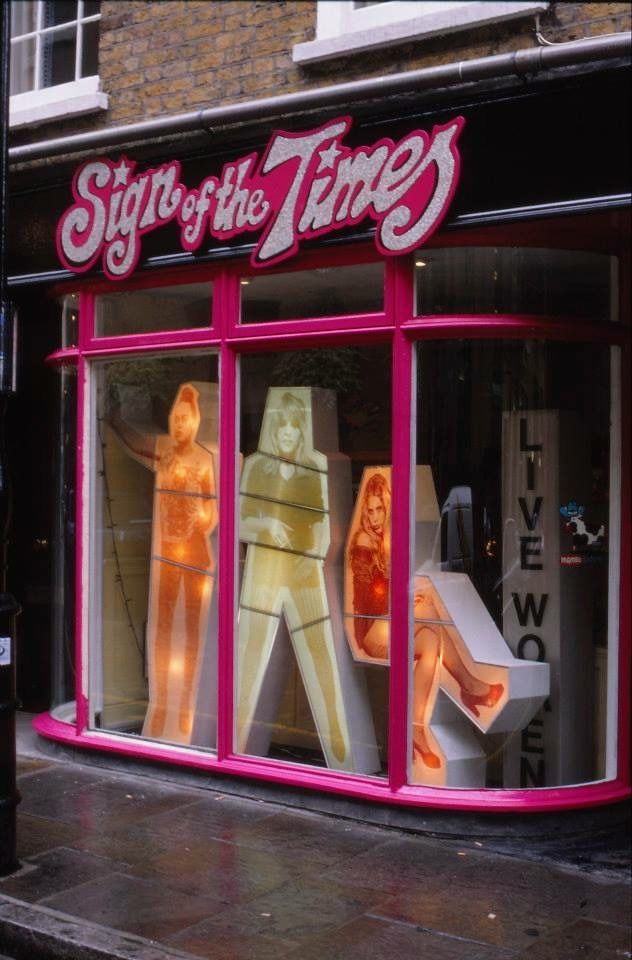 SOTT shop front, Covent Garden, Pic by Jeremy Deller
SOTT flyer by Paul Shobbrook for Kensington Market Shop, 1992
What made you start Sign Of The Times?

I started the store because I got tired of the outdoor life and wanted something permanent. Sign of the Times was about youth, creativity, music and fun. It has been described as a club shop which it was in the beginning, but I think by the time we got to the Covent Garden store we had transcended that and become a young designer fashion store/gallery.
Walking into Sign Of The Times in those days, what would you be met with?

I sold tapes, a lot of the DJs were showing off their work through cassette tapes and we sold zines. Of course we used to sell Boys Own. I used to advertise [in it.] I had all types of zines. Some people didn't like it because they like things to be just one way but Sign Of The Times was a bit chaotic to say the least. We had a lot of different things and that was good because it meant a lot of different people came in the shop.

SOTT Kensington Market pic by Ted Polhemus
The designers we were stocking were a real mix of people from fashion college who were selling us their first collections and people who had never been to fashion college. It gave people a lot of extra income. When I did my book a lot of people said 'Oh Fiona it was really great. I was able to do my music because I was selling so many T-shirts with you' and that's why Jeremy [Deller] started his T-shirt line. It became one of our best sellers and funded a lot of other projects for him. I think that's always useful because the creative world is a tough life.
Acid House came along and I realised something was happening. All these kids were coming down to the market asking for smiley badges, wearing smiley T-shirts.
Did what you sold change over time?

When I first opened in Kensington Market it was all about baggy T-shirts. We were selling Big Jesus Trash Can T-shirts, Spectrum T-shirts, T-shirts from the club Love that Dave Dorrell did. Our t-shirt designers were changing every couple of weeks and we were selling so many different styles. Then there was a reaction against that in the early 90's because there had been so many! Clothing got tight again, people started wearing John Richmond, Destroy and Michiko Koshino again. The baby-doll look came in, the slip-dress look came in. We sold stuff by Rebecca Earley who's now one of the top lecturers at Chelsea College of Art.
By the time we got to Covent Garden, we still sold T-shirts. By the way, if you're starting a brand, I always recommend selling T-shirts because they always sell. They were our basic bread and butter. We also had our phase in about '94-5 we were selling a brand called Micky Brazil. This whole trip-hop look came in so we sold this kind of urban clothing. We had quite a big journey, a big eight year journey.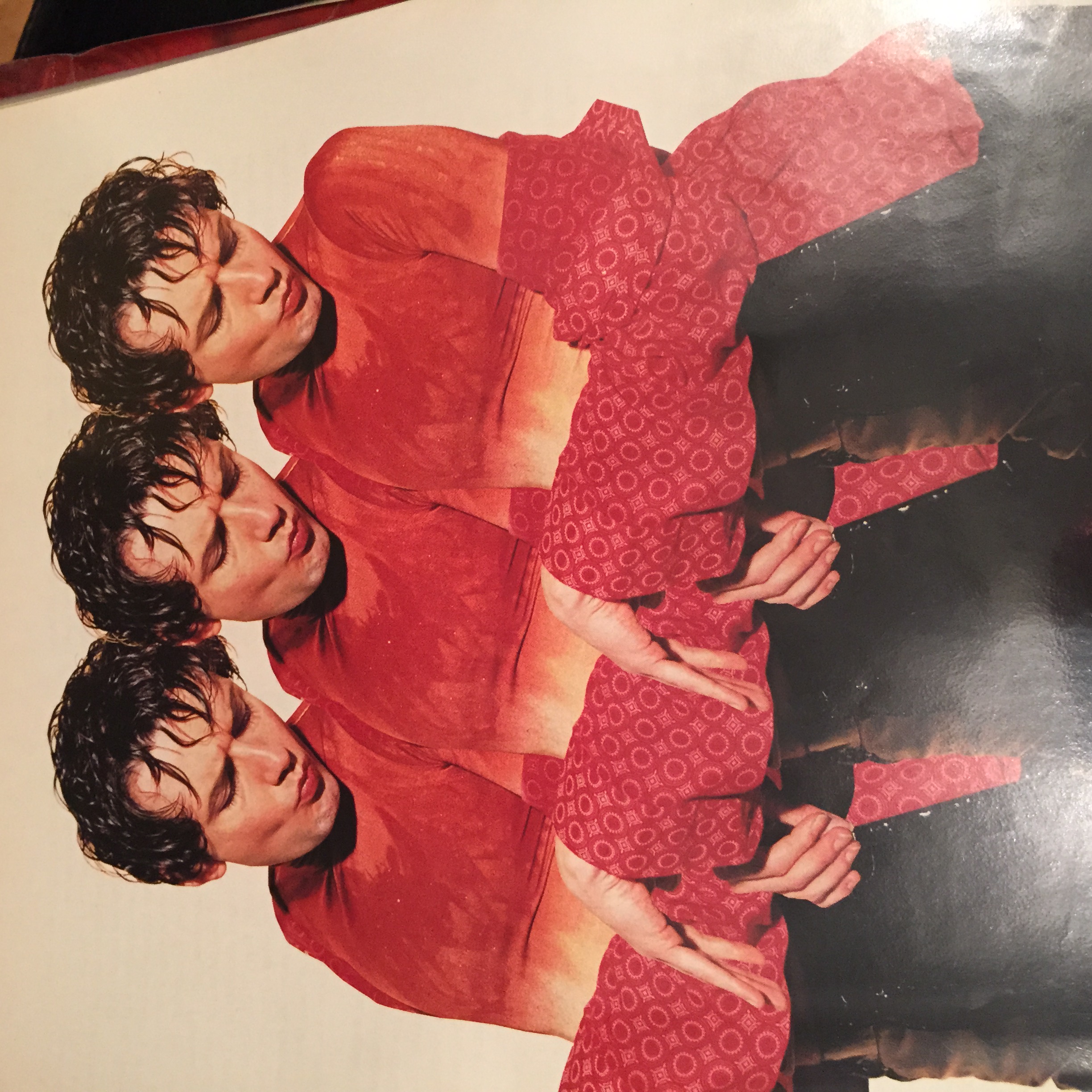 Jarvis Cocker in Christa Davies tye-dye top, Image from Face Magazine, 1994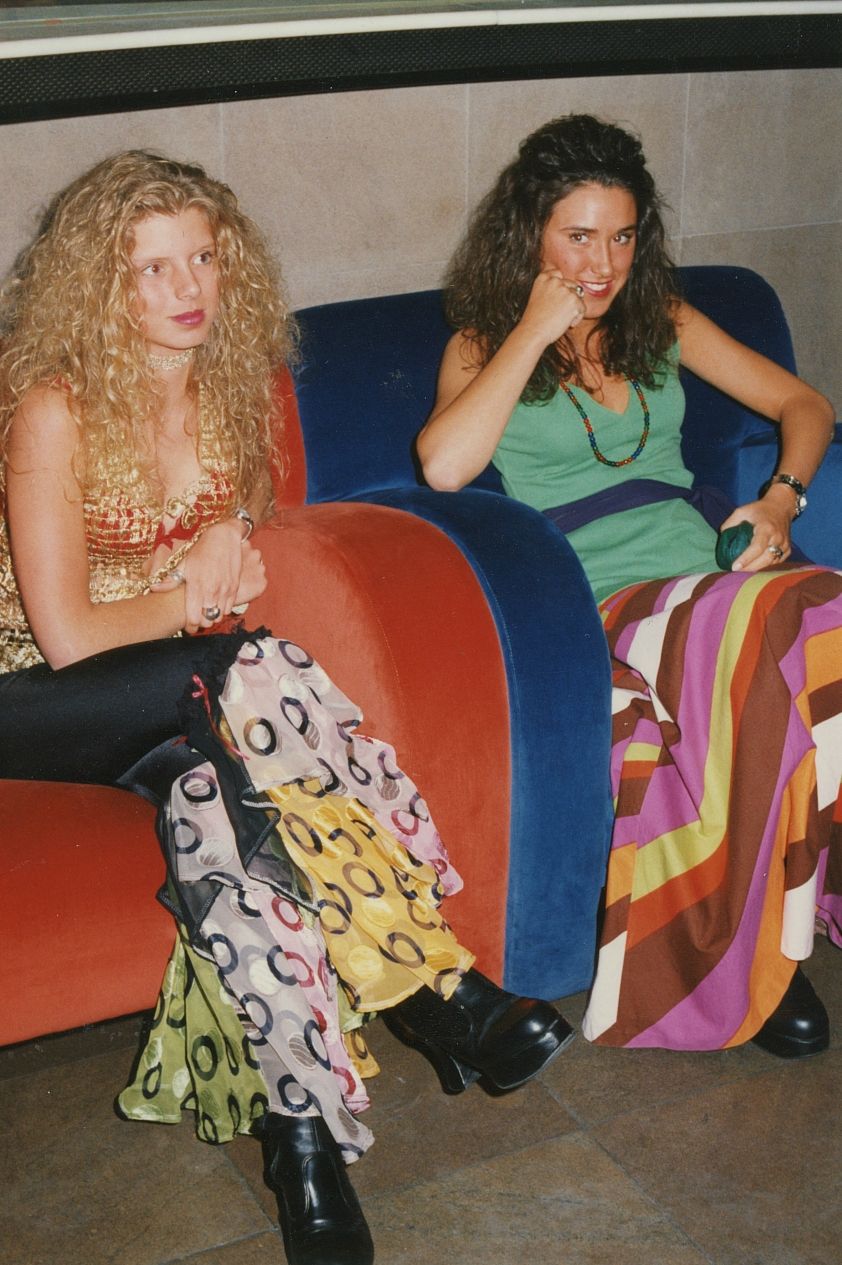 Girls in Thunderpussy pants at the SOTT party ICINI, Mayfair, 1994
Your store (and many others) were well known for the eclectic and often famous client base. You must have had some interesting customers over that time?

In Kensington Market stylists and bands were coming in all the time. Most bands in the 80s styled themselves, they didn't have a stylist. Instead they'd come into Kensington Market. Siouxsie and the Banshees, The Clash, they all came to buy what they wanted. We were used to seeing famous bands and famous people all the time. The thing that I didn't know at the time was one of the major record companies was actually up the road, in those days they used to give the bands cash and say 'go and get yourself kitted out at the market.' Not just my unit but all of the units, that's why we had people like Jon Bon Jovi come in. They used to go to the big rocker stall Great Balls of Fire that was around the corner from us. Dee Dee Ramone came in and actually gave us the manuscript of his book before it was even published. Bjork famously came in. She'd just left The Sugarcubes, was just starting out on her own and wanted tour clothes so we got those made by a designer called Joe Bates who then became Sibling.
Shampoo at SOTT shop opening, Covent Garden, Pic by Jeremy Deller
Plum Sykes in SOTT Covent Garden, pic by Jeremy Deller
You've said that the club scene had a major impact in your style and what you stocked at SOTT . What was it like seeing culture change before your eyes like that?

Acid House came along and I realised something was happening. All these kids were coming down to the market asking for smiley badges, wearing smiley T-shirts. Friends were telling me there was this club called Shoom, it was a tiny little club and this new music was being played that they'd brought over from Ibiza. I was 27 at that time and I thought 'been there, done that, I'm too old now'. People settled down at that age! They were going 'No, Fiona. You have to come and see what it's like'. So I went to Shoom and it changed my life. It was so radically different from what had gone before. In fact I would go as far as to say to that Shoom changed the face of the whole music event industry forever. DJs started getting recognised as serious talent and we're being paid properly. Budding DJs of the time would attend these parties and be inspired by Dannys and his crews' eclectic music tastes,then go onto have huge successful careers of their own.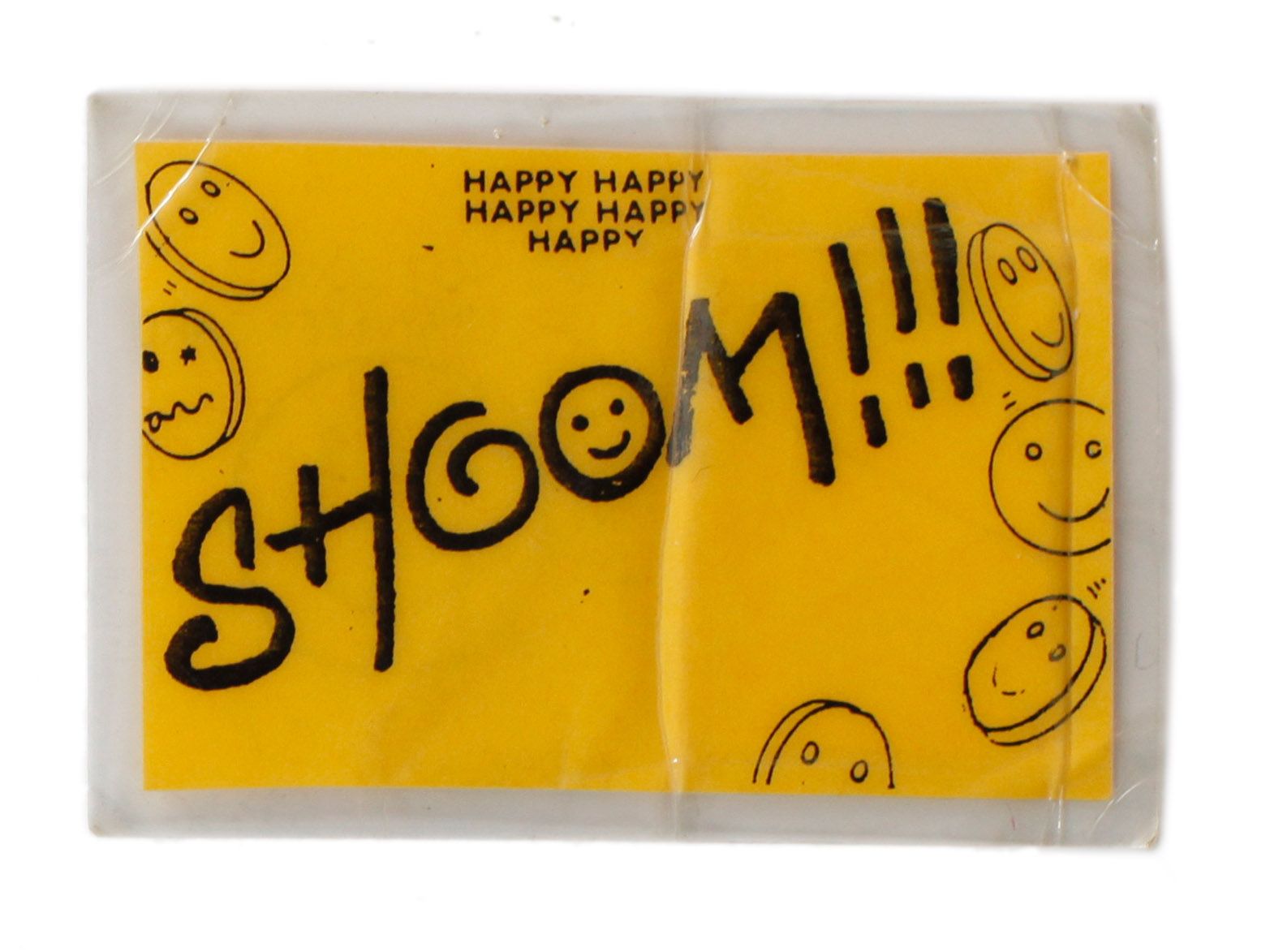 Fiona's Shoom Club membership, 1988
What was the impact on fashion and style?

It started at the end of the 80s at the height of designer fashion. People were wearing Jean Paul Gaultier, Azzedine Alaia. Rents and mortgages were very cheap and people had a lot of disposable income. It was the 'LoadsaMoney' time and when people went out they were wearing really expensive clothes. They were going to the Wag Club and wearing £800 suits. People were wearing all of these very expensive designer clothes and going to the Wag and listening to all of this Hip-Hop that was coming out of America. Then the rave thing took over and because the Fitness Centre (Club where they hosted Shoom parties) was so hot, you couldn't wear any of that stuff. The first couple of times I went there I did actually wear my Jean Paul Gaultier leather jacket but I quickly realised that I couldn't keep wearing that because you couldn't last the night.
There were a lot of people who had come from the football scene who were going to Shoom because they were Danny Ramplings friends and it was Danny and Jenni's club. They would wear quite loose garments. T-shirts started to spring up all around London that went with the scene and it mushroomed really fast because it was so exciting. It was about being in relaxed clothing and the style became very unisex. Before Acid house, fashion was very 'Men' and 'Women'. Power-suits, big shoulders, tight waist. The 80s was very much people in various different tribes. People were skinheads or mods or they were into vintage or designer fashion but the Acid House scene broke all that down. The early part of the 90s was very much about music being aligned with fashion whereas fashion had been quite separate from music in some of the other periods.
Is the relationship between music and fashion something that spurred you to start your (in)famous parties?

I just found the whole thing fed each other and I just love music, so for me it was a real kick to put on the DJs that I admired. I mean booking the Dust Brothers who became the Chemical Brothers, we were the first promoter, as far as I know, in London, to use them after the Heavenly Social and that was really something. DJ Harvey, he used to play the back room! We used to pay him 50 quid! I can't believe that now! But it was really exciting for me and everyone that worked for me to be involved in something which wasn't just the shop. It took on a life of its own once it became a party.

Dance floor with visuals, Vox nightclub Brixton, 1992



Dj Harvey playing at Tonka Sound System in the traveller tent at Glastonbury pic taken by Fiona, 1991
Tom from the Chemical Brothers with Mark from Wall Of Sound at SOTT party at Stringfellows, 1994
What happened next?

I started selling tickets. The way you bought tickets for parties or raves as they still were then was by buying tickets in advance. That's how the promoters got the money to book the venue, to pay the DJs, book the lights, all that sort of thing. So because there was no internet, they'd buy them in shops. All the hip Record Shops or fashion shops in London sold them, and I was one of the few fashion shops. It was a really good income cause you'd get something like 8-9% of the ticket price. It would also bring people into your shop then they'd see the clothes and go 'oh I like that t-shirt, I'll buy that for the weekend'.
I used to book all the big DJs by phoning up their Mums! Only a few had agents in the early 90s.
Superfans around DJ (Sasha) booth at Brixton Academy. This was a new phenomenon, normally people danced with their backs to the DJs - the rise of the superstar DJ, pic by Jeremy Deller, 1993
How many parties did you end up doing?

I did 55 in total. And they were big. I mean some of them were between 500 - 1000 people, or some of then 1200. Brixton Academy, we used that quite a lot. We had a venue called the Vox in Brixton, we did a few in Mayfair, we actually did Stringfellow's which was hilarious! I put the Chemical Brothers on at Stringfellow's! The Prodigy all came down! We were known for having pretty cool decor. It's been a bit of a joke in the house scene, some of the crazy line-ups we put on because if you put on, and I did, hard-core male line-ups of just credible DJ's like Darren Emerson and Weatherall and people like that you know in those days you'd only get guys coming, you'd get very few girls. So the line-ups at Sign Of The Times did become quite 'quirky' cause I wanted the girls to be there. They were the people buying the clothes in the shop and the parties were like a marketing thing for the shop ultimately. If I didn't have the shop, I'm not sure I'd have done the parties.

Brixton Dancefloor by Jeremy Deller, 1993

Leigh Bowery back stage at ICENI club Mayfair SOTT NYE, 1994
Photo by Jeremy Deller
Superwoman cut out decor by Micheala Edwardes, Brixton Academy, SOTT Superheroes Party, 1994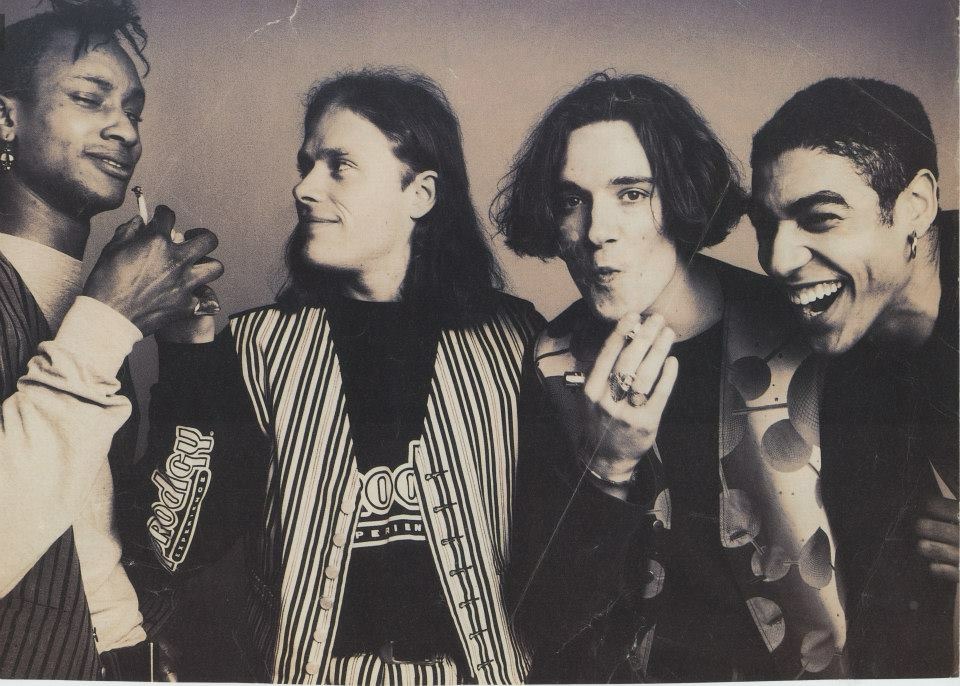 The Prodigy in Nicolas Dorman waistcoats from SOTT, 1992
The artist Jeremy Deller is well known for capturing a lot of your parties. How did your friendship and professional partnership come about?

Jeremy rocked up because he was looking for a job. I didn't know this at the time, I didn't know about Jeremy's history until later. He left some flyers in the shop and the girls in the photographs were a band called Shampoo, wearing t-shirts from my shop so I came running after him and was like 'Wow, those girls are wearing t-shirts from my shop, I think I needed a photographer for my parties' and he said 'I'll do it.' I used to pay him 50 quid a party to photograph the big ones that I did and then he ended up doing work in the shop and he was really good actually but I had to phone up his Mum to book him!
Jeremy Deller taking photos of the SOTT Fashion show, 1994
Really!

Everyone you had to phone up their Mum! I used to book all the big DJs by phoning up their Mums because most of them still lived with their Mums! Only a few had agents in the early 90s. I used to have long chats with [Jeremy's] Mum, 'can he work on Tuesday?' or 'can he work on Saturday?' Quite funny but that's how it was.
What happened for you to decide it was time to move on from SOTT and the parties?

The worst thing was when I lost the shop in the 90s but there was a perfect storm going on. My mother was ill, I'd been attacked, my shop got robbed and I was being copied by the high street and I didn't manage to get a backer. I'll be honest with you I wasn't the best businesswoman at that point because I hadn't come from that background. I've learnt a lot more about business the hard way. I would have done a lot of things in the 90s differently had I had the knowledge that I have now and I think that's true of most business owners. It's hard sustaining a business and the people who have managed to sustain shops for 30 years or more deserve a bloody medal. 'Ad Hoc' in the Kings Road, she's been going ever since the 80's so it's quite something to still have your shop after all this time.
Jeremy Deller photographic collage done as a promo flyer
for the SOTT Covent Garden shop, 1994
Model at Portobello Doorway in SOTT exclusive
Thunderpussy outfit, 1993
How do you feel about the resurgence in interest in past scenes and fashion?

I think it's great. I have no criticism of it at all other than I really don't want to be associated with the drug scene. I don't like drugs, I didn't need drugs, I have lost so many friends to drugs. When people talk about rave they immediately associate it with drugs whereas I don't. I don't like the damage that these scenes have done to people. I don't want to promote that as a lifestyle choice. I want to promote music, creativity and all the good stuff, I don't want to be promoting the bad stuff. I don't want to be some old person lecturing young people but I just want everyone to survive as well as they can and have a happy life.
What were your high points?

Peaks for me, I really did enjoy the rave scene. Just going out, meeting people, making lifelong friends, and listening to incredible music. I was there when Weatherall first started DJing, and I heard his first set at Shoom. Used to go to a club called 'Shave Ya Tongue' out in the suburbs and that was when he was making all that stuff with Primal Scream and we heard it the first time he played it, we were there. Things like that were amazing, every night at Shoom was amazing. Spectrum was also amazing too. Obviously then we reached the giddy heights of fashion and I went around with Isabella Blow for a while and went to Alexander McQueens show Nihilism at the Bluebird Garage.
What would you say to people wanting to start something?

Be authentic, go on your own trip. I think in today's climate with so much competition, especially the internet, it's the only thing you can do. If you get it right, people really want that and you can build your own brand that's different from everyone else. It's hard with all the digital content around us, but just try and do your own thing and make that authentic and you will find your own following. Having a business is about building customer loyalty. If you build good customer loyalty you don't need to follow the pack.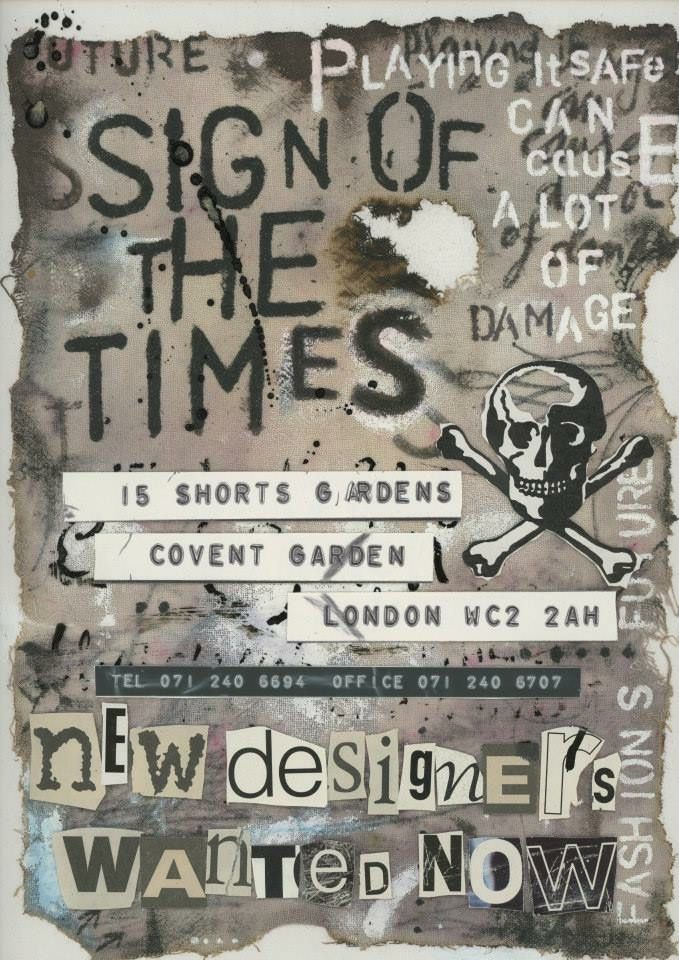 17 SOTT new designers wanted now flyer made on burnt-out fabric by Paul Shobbrook
How do you feel about the High Street VS smaller retailers?

It's not that I'm anti-high street, I'm actually wearing a Zara coat right now which I really like but the thing is I'm very pro independents. Unfortunately they are rarer and rarer in London. I lived in Brighton for a short time, it's got its own thing going on which is really really interesting. They're really into eco sustainable clothing and manufacturing. There's lots of really great shops in the laines still that are owned by just one person and they're doing just their own thing and I really like that about Brighton, it's got its own sort of vibe. Whether it's food, whether it's music, independent record shops or clothing shops and even the pubs, a lot of them are independently owned you know so it's a good scene down there.
Live models in window display SOTT, Covent Garden
How do you think Sign Of The Times would hold up in today's millennial Gen Z dominated world?

I think it's really interesting actually because where I was in Covent Garden probably wouldn't work anymore because the whole demographic of people shopping in Covent Garden's changed, but I think the Sign Of The Times ethic would work in any area where there's a lot of young people. Anywhere that has a concentration of new creativity, if it's done well, will work because people are always interested. I still think that nothing beats a real-life experience, if you can get it right. The trouble is the rent and it always comes down to the bloody rent because they put them up. You get in there, you get it all going, as soon as you start making a profit the rent goes up, your profits gone. And so you end up working for the landlord.
What do you think the future of shopping will look like?

Selling on instagram has really taken off now and some very innovative ways of selling are emerging digitally now, people are wanting to buy off independents. Instagram and all social media has allowed people to have their own channel direct to the public now, I first saw this with the grime stars who harnessed it all early on. It's often youth culture who jumps one all this new technology the first then the big companies join in.
---
All images generously donated by Fiona Cartledge. If you need to know more about any of the images used in this article please contact us direct at the email address below. We would be happy to help.

Like this? Read more on our journal and be sure to follow us on Facebook and Instagram for updates, BROTHER inspiration and first looks into new pieces.