Brother Journal ︎ up -to-date info and resources ︎
FIVE WITH.. ︎

10.11.20


FIVE WITH... BUSHY

For this month's 5 WITH we're fashion focused, chatting to model, musician and skater Ethan AKA Bushy. Brother has always been a big fan of the board, but we are by no means experts, so we caught up with someone who has learnt their own lessons from years of scratched knees and injuries.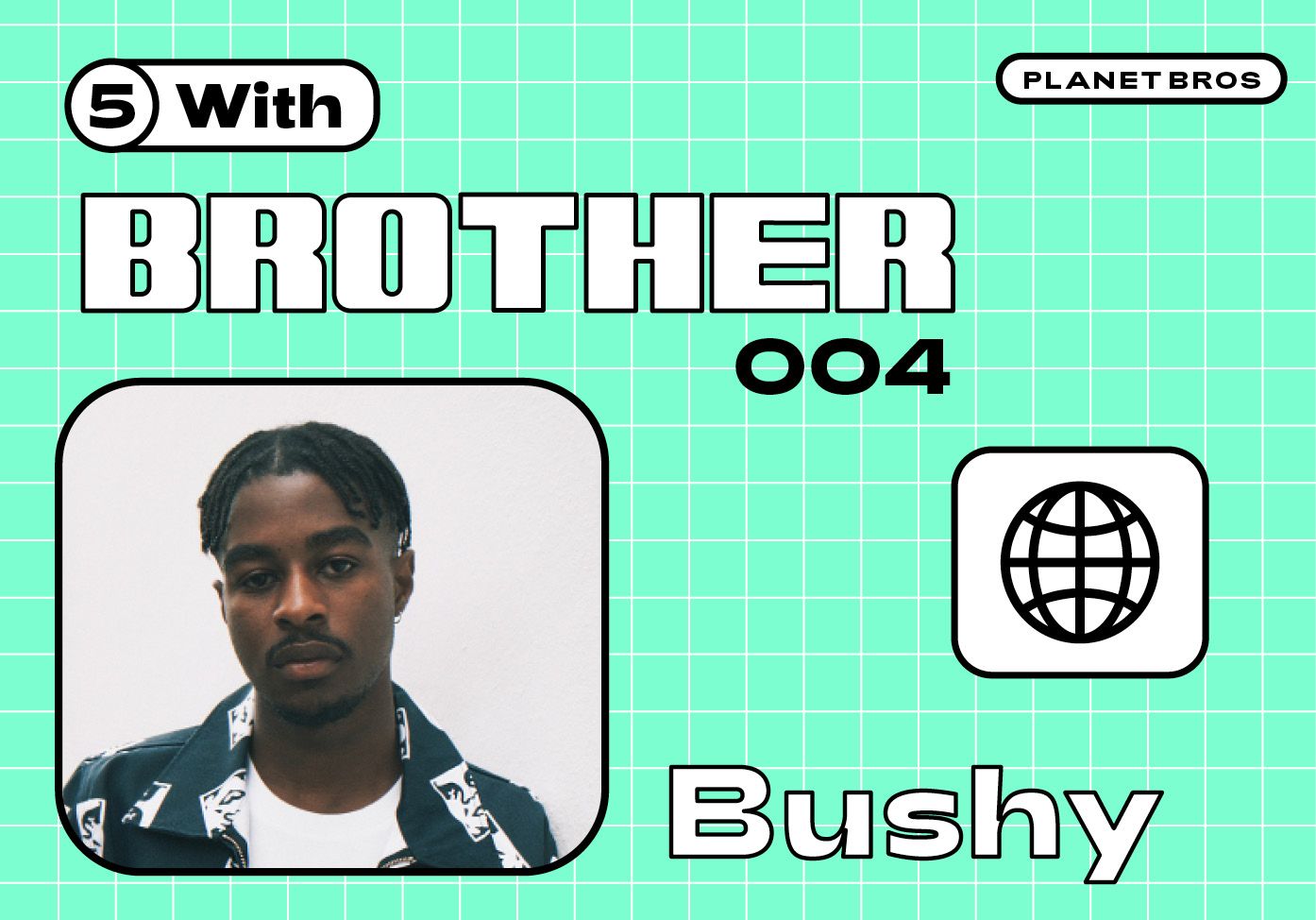 First off, tell us a little bit about yourself.

Hi Brother, I'm Ethan, I'm 25, I guess I make music, model and skateboard when I have the time. That's about it.
You make music? That's cool, tell us about it.
I make alternative Hip Hop, it's got quite a lot of electronics in it, a mixture of singing, rapping and a bit of poetry. I've been doing that for a while now. Solo wise, I would say about 3 or 4 years. At the moment I've just been writing a lot and collaborating with people. I'm also working on a project but I'm gonna take my time with it. Probably won't release that for another year because I've got the concept and ideas that I'm still getting to explore and write about.
How long have you been skating for?

About six years on and off. I've been trying again properly for the last couple of years. I guess it's something that I just picked up. I was doing it with my friends so I got into it with them. It's one of those things where it really showed me that the hard work you put in comes through. There's so many things that you want to learn, you just kept trying to do them and then eventually I got them. I've kinda used that method to break down most things that I do. Whatever the obstacle there's a way around them.
What are some of the things skating has taught you in your life?

Stuff hurts man. No pain no gain, literally. You can fall over when you least expect it. You gotta like, go with it, be in the actual moment otherwise you're gonna miss something and you're gonna hurt yourself or slip out. I feel like you have to be able to have an element of let go, you can always have control or you're just going to have a very miserable life.
How does the DIY culture of skateboarding affect the rest of your life?

'Try really hard and hope that it works.' I guess I've just been running with that since I was like 18, getting work where I can, reinvesting it and trying to keep up relationships, meeting new people. I guess just putting out the right vibe and hoping that it comes back to you. I do that with most things, especially shoots. I was doing a shoot for this company and they were like 'Oh yeah we'd love to get you for this,' then you do that, bring energy and a year later, you're still working with them. Being able to keep relationships is a big one.
Now you're getting bigger as a model, would you start being a lot more selective for who you model for?

I think definitely in the future. At the moment I need money, but as soon as I'm stable as I need to be I'll probably be very selective with what I do. When you get older you have less time to do things that aren't worth your while. I'm still young, the older you get the more you understand who you are, so I'll become more conscious about which companies I want to work for. A lot of brands are trying to be more sustainable and look after the world, so that factors into it.
What stands out in terms of skate brands?

A lot of them started from nowhere, unlike a lot of other companies who someone's family had a lot of money or got really big investments. These brands are quite community based and they support the culture, this culture where everyone's welcome, everyone's lovely to everyone, everyone is willing to help everyone so brands usually tend to have that ethos as well. I think that's why I've always been really into skating.
Do you ever feel annoyed that skatewear is such a big fashion trend now?

I used to but at the end of the day it is what it is and skaters wouldn't be able to make the living that they do if there weren't such a culture that supports it. It's always going to happen. It's like moaning at someone for wearing Jordans. People skate in Jordans! Things become a part of culture, I've got bare things to worry about instead of 'nooo, this persons wearing Thrasher!' I can make jokes about it but I'm not going to cry about it.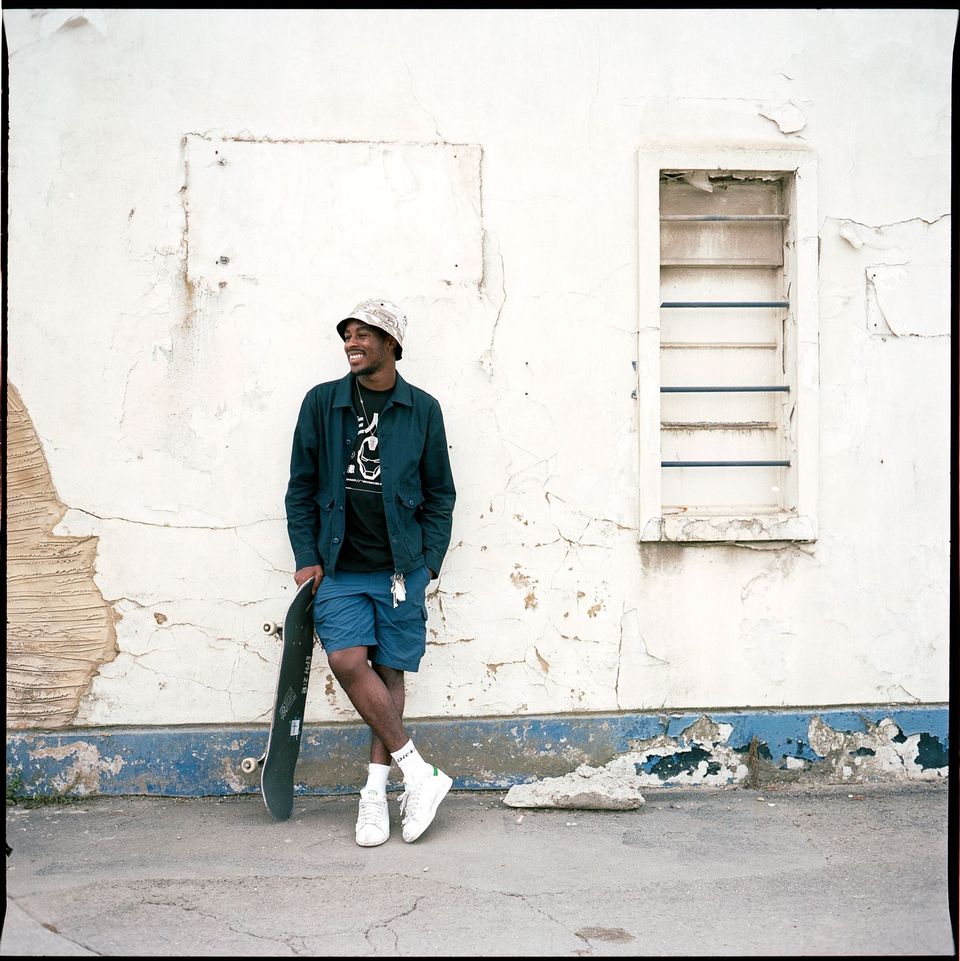 So enlighten us, what are your top five skate brands?
---
01. Stussy
https://www.stussy.co.uk/
They are the idea that birthed supreme and palace. I don't know if a lot of people know that but they created the culture now. They became cool again because of the old heads and plus the brand got rebranded, they made it a bit more new. But I've always loved Stussy because there wouldn't be any of the others without it. They created that culture.
02. Death Boards

https://www.deathskateboards.com/


They're one of the oldest skateboard brands, they're London based. I know a couple of skaters that skate for them and all their skaters are insane. They do England proud, they're sick, they're really sick.
03. Isle

https://isleskateboards.myshopify.com/


It's a similar thing to Death. They're also a London based skate company. They've got some really cool skaters and I lie some of their brand pieces, they've got really cool artists.
04. Brixton's Baddest

https://brixtonsbaddest.co.uk/
My friend used to work for them and they've been nice enough to book me on a couple of occasions. They're just really sound, I go into the shop every now and again. Even though I don't skate as well or often as I used to, they're just a really nice company and they've come a long way from when they first started as well. I remember when they were just a brand they would sell at stands but now they have a store and a concession at selfridges as well.
05. DC Shoes

https://
www.dcshoes-uk.co.uk/
They're the OG and their shoes are still pretty cool. I've been mainly skating in DCs, but I've killed them all the past couple of months. I've ruined all my DC shoes now, I had 4 pairs and in the past couple of months I've got holes that are too big to skate in now, it just goes straight through to the socks. It's really sad, some of them are really peng shoes as well, I might have to buy some shoe glue and save them. I don't know how I'm gonna part with them.
Be sure to check out Bushy's music and model shots on his Instagram @Bushybrowet

---
Like this? Read more on our journal and be sure to follow us on Facebook and Instagram for updates, BROTHER inspiration and first looks into new pieces.