Brother Journal ︎ up -to-date info and resources ︎
BROTHER CHATS ︎
08.11.20


TIE DYE WITH ISSIE AT CASA CURIO

If you've ever been into our store in Netil Market, you'll be familiar with the various tie dye garms we've got in stock. From original Brother Tees dipped in Purple Rain to socks and tote bags the colour of Margate skies. But how do we get them all such delicious colours? That's the work of one woman, the brilliantly colourful Issie AKA Casa Curio, our Netil friend and colour collaborator. If you want to know all about her and how she does it, read on.

Hi Issie, how are you doing?

Yeah, not bad! Bit of a weird one tbh but nevermind.
Are you getting ready to go into lockdown?

Yeah as much as possible really. But it's going to be different this time round because I'm going to be able to work which I wasn't able to really. It's crap really isn't it, I think everyones kinda had enough.
Can you tell me how you became involved with Brother?

Yeah we lived just off Broadway market for 10 years, and we met Tash at Netil market, me and my partner. We kinda just became friends. Most Saturdays we'd pop into the market and that's how we initially met. I live in Margate now and have done for the last four years.
What made you decide to move to Margate?

To be completely honest we couldn't afford to stay in London, we wanted to buy and we couldn't afford it. We started looking for cheaper places and the initial idea was that we would find somewhere in Margate to rent out to people, but the more time we spent there the more we fell in love with it. It's such a different pace of life and the demographic around Hackney is younger and it has changed so much, Margate resonated with us as having a lot of the same characteristics as Hackney is losing. Also, just being by the sea is wonderful. Being able to see the skyline is so nice.
It was like opening up a present when you unwrap and you just see all the different techniques.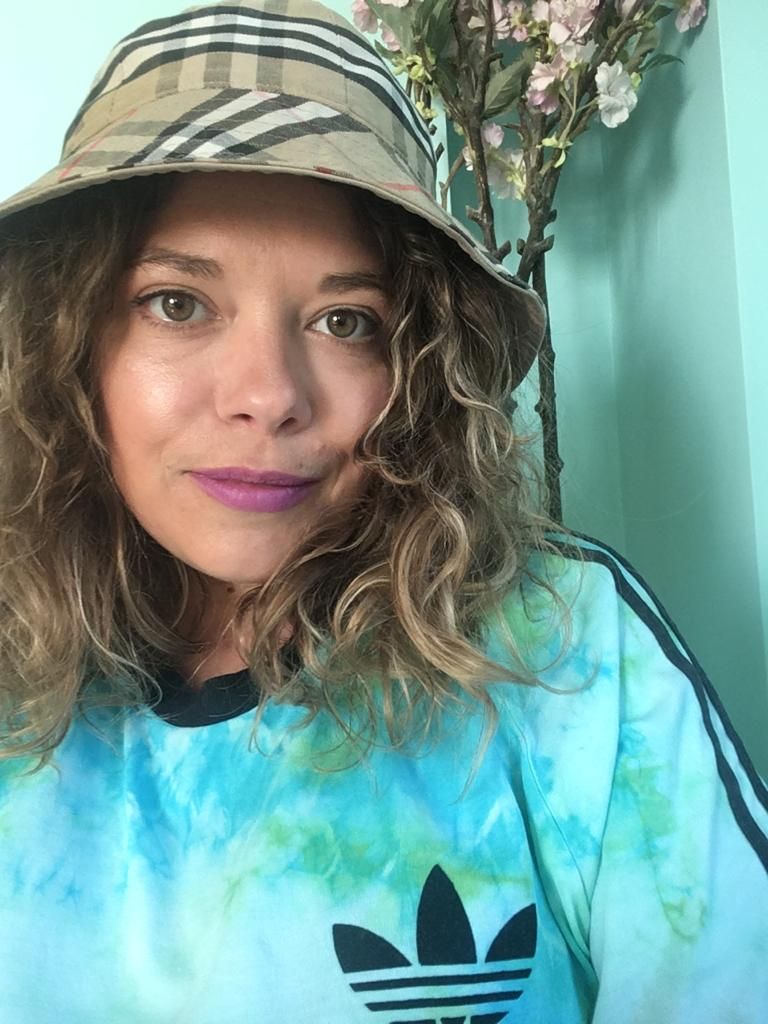 How did you first start tie-dying all the Brother garms?

When we went into the first lockdown I wasn't able to work. I'm a fashion stylist and all my shoots cancelled, the whole industry shut down. I was at my wits end because I'm not used to having nothing to do. I had this bag full of white stained clothing that I'd been calling my 'tie-dye bag' for about two years, which had just been accumulating stuff and I never got round to doing it. In the beginning of lockdown I just started playing around with all that stuff, teaching myself new tie dye techniques and I was just posting stuff online and people started enquiring so I started selling. Tash then got in touch, she'd seen I'd dyed some of her friends white Brother tops that they'd stained by accident and said she had a load of t-shirts and bags she'd like to get dyed. We went through it together and chose colourways that would work with her graphics and we've done two little collections together which has been really fun!
Yeah they look amazing and they go really quickly out of the shop. What's your favourite thing about tie dying?

I think the experimentation phase is the most interesting because you learn how folding and tying the garments in different ways gives you different results. At the beginning there was a lot of trial and error, but now I don't get as much surprise when I rinse something out, I know what it's going to look like but that was really cool for me. It was like opening up a present when you unwrap and you just see all the different techniques. I love merging all the colours and seeing which colours are going to work together.
What are your favourite colours to merge?

I really like anything with pink. I really like the pink and purple which we call 'Purple Rain.' 'Margate Skies' is pink and yellow and 'Om Beach' is pink and orange. You have to think about the colour wheel and what colours work together. There are some colours that when they combine can be quite muddy.
Like mixing all the paints in the paint palette at school and it goes brown! You're like oh, I thought it would make something really bright but it's just mud.

Yeah! All of it is a bit of trial and error. Colours that look nice next to each other tend to merge really well.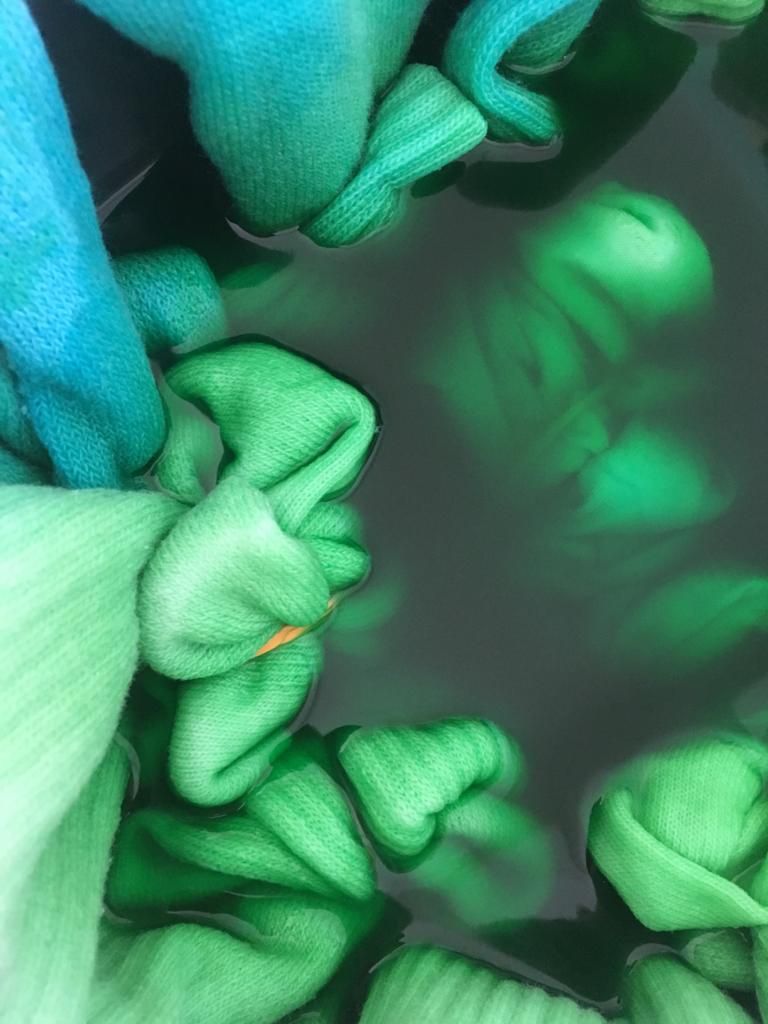 What process do you use to dye everything?

I use the traditional bucket method where you have to leave it to soak for 24 hours, so a two colour garment is a four day process, which is why it was so good during lockdown as it really occupied my time. Nowadays you can get kits where you put pigment dyes in squeezy bottles. You tie the garments up and chuck the bottles at the garment, you can get a lot of different colours on a garment that way but I personally don't think you get the definition of the pattern. In the bucket method you fold or scrunch the fabric in different ways to get different effects and you put it in a bucket of water with dye for 24 hours, then rinse and dry. If you do two colours then you re-dye in a different colour. I've done up to three at the most. It takes longer than you think. If you use squeezy bottles it's a lot quicker but not as nice!
It takes such a long time and it's such an arduous process to just get one t-shirt or one bag. But there's something really beautiful in understanding how long it takes to make something when we're surrounded by fast fashion and instant gratification.
Yeah I recognised that. When I started I was using one bucket for one item because I wanted to test techniques but now I've worked out a system and it's why things take a bit longer to make. I tend to wait until I have a collection of orders for the same colourway so I can batch dye together as much as possible to make the most of the dye because you an get a few garments into one bucket which makes sense, otherwise you feel like you're wasting dye if you're just using it on one garment. A lot of it is working out how to keep wastage down and get as much out of it as possible.
It's also a way to bring new life into old, grey t-shirts
That's exactly it - you don't need to throw away old clothes because they've got a stain on them. In lockdown I had people messaging me on Instagram about the stuff I'd been doing. Someone said to me 'Oh, I've got this sweatshirt that I love but I've just spilt red wine all over it' and if you do something pink and orange you can mask red wine stains so for a while that's what I was doing - breathing old life into new favourites. That's the best thing about it, re-using old things.
Can you tell me a bit about your work as a stylist?

Yeah, I've been doing it for 12 years now. I started off as an assistant as everyone does. I started with costumes on film and tv. These days I mainly do advertising campaigns for fashion, beauty and lifestyle brands, I do a bit of fashion editorial. I've done music/celebrity styling but I don't really do that so much. It's quite varied. It's quite full-on when it's busy. It's quite varied but I do really enjoy styling beauty. I think it's because the shots are really cropped, really closed in so you have to be really creative and think about how you can do the style of clothing that's going to accentuate the beauty but not take away from it. Anything that you can have creative freedom with which you don't often when you do a lot of advertising jobs. Quite often you can be led by the client or there are brand colours you;ve got to think about but when you;re doing editorial beauty and fashion to some extent you can be a bit more creative.
Is having creative freedom the most important thing to you when you're working?

It makes it more enjoyable. You're working to a brief that you;ve been supplied by a client so it won't necessarily be your kind of style or something you really like. But now I've been doing it so long you do tend to be paired up with clients because of your style so there is a crossover where you can be creative on advertising jobs but when you're doing fashion editorial that's when you can focus on storytelling and there's no limits.
I love one of the colours you created is called Margate Skies. What made you call it that?

It was the first two colours that I combined, and I have a big bay window that looks over the beach in Margate. I was holding it up just as the sun was going down and I noticed the pinks and yellows in the garment was exactly the same colour as the sky. We get very pink sunsets here.
Do you ever miss London?

Truthfully, no. But I'm there all the time for work so I think if I was never there I would. I'm from London, born and bred so I obviously have roots there but I don't really. The only thing I do miss is all the different cuisines that are so easy to come across and so good. Outside of big cities you don't really get that.
Do you think that people will keep moving out of London to places like Margate?

Yeah, over the next couple of years. I think since the pandemic we've had a huge influx of people who are now able to work from home and who have realised they can have a much better quality of life outside of London, it's a lot less expensive and can still have their London salary jobs. But who knows once this is all finished whether that mindset will continue. It would be good if it did change, because it feels a bit ridiculous that people have to go to an office to do their work if they can be productive from home.
How would you style your tie-dye pieces?

Well I've been wearing them throughout summer and now we're going into Winter. In the cold weather I've been layering them, so I've got boiler suits which are great to put a polo neck underneath and thermal leggings and even T-Shirts that are big and oversized I;d layer polo necks under them and wear them with tracksuits and jeans. It's kinda casual but it's fun and I think fashion should always be fun. Tie Dye is that, it's just colourful, lively and fun.
It's so nice to talk to you about this, you're just one woman in Margate tie-dying all these creations, there are no big machines or companies doing it.

Yeah, literally no fashion line, just a woman with a bucket! It's definitely very bespoke hand made small scale at the minute, which makes it a bit more special.
---
The new tie-dye collection with Casa Curio will be launching online later this month. Follow CC on Instagram.
Like this? Read more on our journal and be sure to follow us on Facebook and Instagram for updates, BROTHER inspiration and first looks into new pieces.