Brother Journal ︎ up -to-date info and resources ︎
FIVE WITH...
13.10.20


FIVE WITH... RABIAH SAUD

Music is a big part of Brother. It's the soul behind the subculture, the movement behind the fashion and the heart behind our little store. We do a mixtape on our Journal once a month and true fans will be aware of our monthly show on Netil Radio where we deep dive into the music that made us what we are, but there are so many other DJs whose knowledge is much more extensive than ours. One of those is Rabiah, one of Netil Radio's finest selectors, and one of our favourite in the Brother music community, which is why after extensively quizzing her about her life, we asked for her top five in her own music world.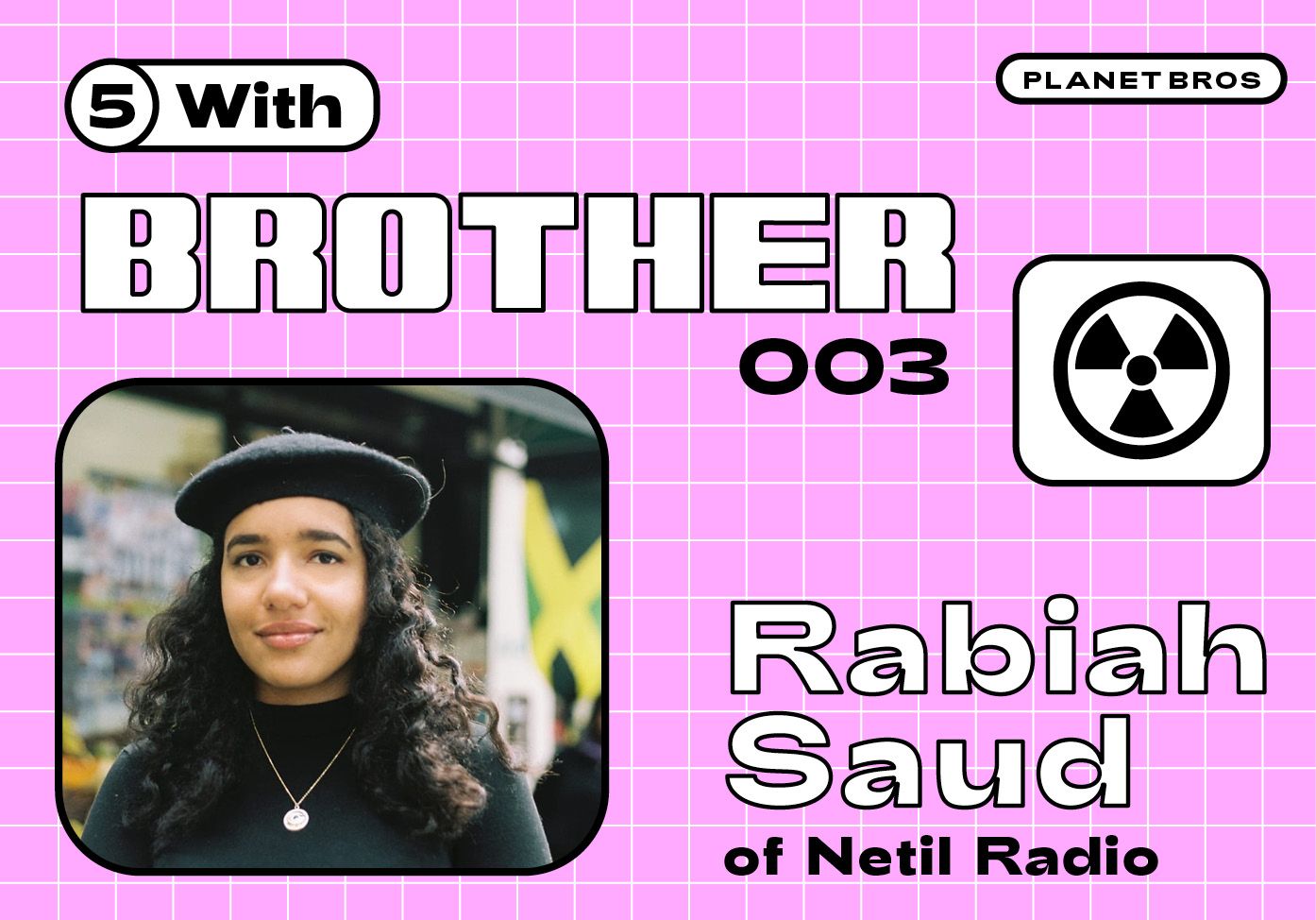 Who are you? Tell us a bit about your background.

My name is Rabiah. I'm a young Londoner, Hackney born and bred and I'm a Scientist by day and a DJ by night. I work for the NHS, (Big up! Bum the Tories!) But music has always been a big part of my life. I grew up to Rocksteady and Reggae from my Grandma and my Dad would play lots of Garage and my parents would play R&B, so I've always just been listening and then when I went to Uni they just used to play awful EDM stuff. I complained about the music so much that someone went 'why don't you just DJ?' So I just bought a controller and taught myself so I started off doing Uni nights where, because I was a girl and the only person of colour trying to get these nights, it was really hard to even get a decent slot. I just wasn't taken seriously, but out of everyone I'm the only one that is still DJing, Ha Ha!
"I was actually in a video as a kid for a UK Garage song. It's called Home Home by Nathalie Tapa. I think it was because my Dad knew someone. It was me and my Sisters. We made up a dance, it was so early 2000's."
You're a part of Netil Radio now?

I started with Netil Radio just before lockdown so when I was doing my shows it was in the middle of lockdown and I was like 'Is anyone listening?'. I couldn't bring any guests, I couldn't bring anyone but I was so grateful for my Netil show because it kept me sane. I had to work throughout the pandemic and it was just mental. Like I didn't cycle before but now I do because I had no means of getting to work and I don't want to walk an hour each way so having my Netil show saved me. I get to leave the house, forget about work and do something I love. I love Netil. It's a cute little community, everyone there's all about the music, love it.
What's your style for your shows?

I play House and Soulful Funk music. I'm old at heart where I really dig the 60's, 70's, 80's. That period so much cool shit happened in terms of pop culture, music, fashion, everything. The music is just timeless and there's so much to delve into and discover and I like to showcase that and play a lot of that through my shows unless I'm playing with Creole Cuts (see below.) As an individual, I'm really into House and Techno. The Detroit scene, the Chicago scene. Theo Parrish, Omar S. Then you've got DJs like Josey Rebelle that I really look up to who have just been doing their thing and just killing it for time. I think coming from London and coming from the mix endz of Hackney and Islington and having friends in the South East, it kind of blends your musical tastes. I can do a set and play Garage, Grime, Funk and Jazz all in the same set. I'm not necessarily defined by one genre, I just mix it up.
Have you been playing much during the pandemic?

I've had a few socially distant gigs, last night actually I played at Shoreditch House but people got told off for dancing near the decks. So as a DJ you need to gauge the environment, whether they're feeling the music that you're playing or mixing in. For me, one of the first things I learnt when DJing was reading the crowd but you just can't do that anymore because there isn't a crowd! They're sitting at tables, they've got their backs turned to you. It's very different and I do hope things return to relative normality because I do miss the dancefloor, I miss that sticky dancefloor, being in a club.
Do you see yourself continuing with radio?

I'm just so grateful for radio because I just can't see DJing as an avenue for making money. What I've found is that fees are now such a pittance compared to what they were and you can't negotiate any more. Venues and promoters, there's some good ones out there but most aren't willing to compromise. So you're DJing not for financial benefit but just because you want to play out which is I guess why I started anyway, but I'm quite fortunate that I don't have that as my main source of income. I have some friends who are utterly fucked and on Universal Credit cos there's no work , there's no sets or anything.
During lockdown, at the height of the pandemic when there was absolutely fuck all to do, every weekend was a night in, I got in to music production and I've had 2 pieces that I've created being used for projects which I'm using to take courage from. This really cool brand called Fan Girl. They're quite into supporting the black queer community in terms of vogueing and stuff. Recently they did a digital catwalk so I did the music for that and it celebrated the different non-binary sexulaties. It was just really different and really inclusive.
Why did you choose your FIVE WITH on music communities?

Being part of a community can just enrich your life so much and that's why I'm all for it. And living in London with people moving and coming from here and there and the way society is just built where you're just at work and then what do you do after? It's so important to create your own communities or just find somewhere and not just get into that rut of just working and just doing that.
RABIAHS FIVE MUSIC COMMUNITIES

Creole Cuts

An all-female creative collective that I co founded celebrating the sound of our Caribbean Heritage that unites us. When I DJ with Creole Cuts I tend to do more Jazzy, broken beats, afro-centric tracks because part of what Creole Cuts is what brought us together, our Caribbean heritage.
It's not necessarily what defines our sound but we do play a lot of afro-centric music or music from the Caribbean and with those sort of shows it will be more thematic but, for me, if I like the tune I'll find a way to mix it.
read more...

Eldica Records

My local and most favourite record shop in London. It is a community cornerstone run by passionate music lovers. A selectors' dream as their records are very fairly priced, have found some real gems there!
Síbín shubz

Síbín is a collective that works with audio & visual media to explore areas around identity and culture. As a Label they have released some stellar tracks.
https://sibin.bandcamp.com/
Producer Girls

A really cool collective of music producers who initially ran beginners' music production workshops for young women who wanted to take up music production. Currently they post really useful tips and which have helped me a lot!
Touching Bass

@touchingbass

South London based party, label and collective who also have a bi-weekly show on NTS. They're all about bringing people together through music, and making you feel something.
http://www.touchingbass.co.uk/
Like this? Read more on our journal and be sure to follow us on Facebook and Instagram for updates, BROTHER inspiration and first looks into new pieces.

Catch our other FIVE WITH Ella Sadie and Inneoss on the journal.